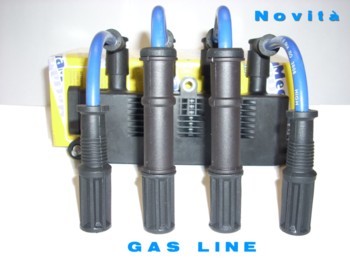 Increasingly more standard vehicles are equipped with methane power and even more motorists are changing from petrol to LPG or METHANE.

Given that the combustion of gas is significantly different from that of petrol, to meet the increasing demand of its customers MECRA has made a line of specific Spark Plug Wires for a gas power supply and has developed a basic assortment fast moving KIT: MECRA GAS LINE fast moving.

In the production of this version of spark plug wires MECRA uses a wire with a diameter of 8 mm "HIGH POWER" that allows a strong and powerful spark to be obtained for the plugs, it also uses selected GOOD QUALITY components that best resolve problems linked to wear in respect of standard spark plug wires.

The production of GAS LINE spark plug wires consists of:

34 items that cover 100% of all standard European applications are equipped with a gas power supply;

As regards the most common applications on the market that have undergone changes to also be powered by gas, market demands will be carefully examined at the time and then one of our offers will be developed.

Pros and cons of the gas power supply:

Pros
1. the operating costs are much lower;
2. the distribution network for LPG and METHANE fuel is now well organised;
3. better for the environment.

Cons
1. always requires efficient ignition
2. higher temperatures
3. compared with petrol vehicles they have a critical impact on spark plug wires and ignition coils.